10/14 WWE Raw On-Site Report: The Fiend vs. Seth Rollins after Raw went off the air, crowd size, autographs for VIP package, return of pyro, more in-person notes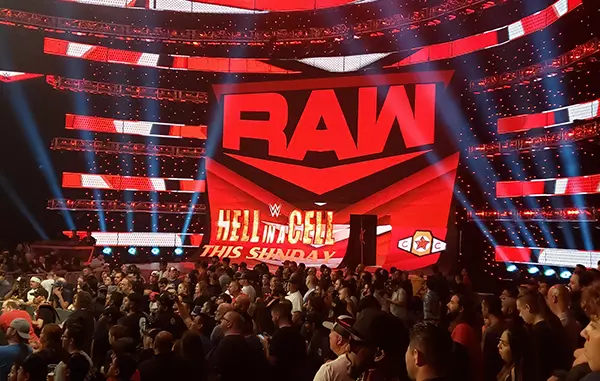 ---
WWE HELL IN A CELL POST-SHOW – LIVE CALLERS INSTANT BACKLASH…
(Search "pwtorch" to subscribe in podcast app)
---
WWE RAW ON-SITE REPORT
OCTOBER 14, 2019
DENVER, COL.
REPORT BY CURTIS SHANKS, PWTORCH CORRESPONDENT
My wife and I attended Monday Night Raw this week in Denver, Colorado. We sat dead center in the front row of the hard camera shot. Dream seats. My wife had the IC Title over her shoulder and I was the nerdy, balding dude in glasses and a black Sami Zayn shirt.
This was the third straight year we've done front row wrestling in Denver. The Pepsi Center was about 95 percent full for everything aside from the upper deck (which was covered). Best attendance in years for Denver, but that was aided by a previously cancelled house show in the area on Sunday night and no Tuesday SmackDown, which is usually held in the same arena.
My wife and I bought the VIP package, which includes a chair and a random autograph in a swag bag. Last year we were ecstatic, as we got Sami and Shinsuke, our favorite wrestlers. This year we both got Samoa Joe. My wife tried to sweet-talk the ticket booth lady to get us a different autograph so they weren't the same. She thumbed through multiple bags and said "they're all Joe." We later talked to a family of four who were VIP and were fairly upset that the entire family just got Joe autographs and nobody else.
Main Event tapings were Mojo vs. Ryder and Sarah Logan vs. Dana Brooke. Nothing special, but served the purpose well of getting the crowd warmed up.
The Raw opening pyro was so loud and so cool. I haven't seen it in person in a few years. So glad it's back.
Crowd loved Becky Lynch starting the show. Great match to start the show rather than some drawn-out 25 minute promo segment.
The various pre-taped draft segments with NBC Universal celebrities were played in the arena, but got almost zero reaction. A few laughs for Jost and Che, but otherwise silence.
They cut to the draft panel a few times (Renee Young, Booker T, Joe, Beth Phoenix), but the audio was not transmitted through the arena very well so we had no clue what they were saying and just sat around waiting for something else to happen in the ring.
The crowd was hot for the Viking Raiders. You can see me pop on camera for the win, but my wife was very upset because she likes Dolph and hated to see him lose.
Seeing an Aleister Black entrance in person from the front row was so awesome. I recorded the entrance on my phone and we've watched it back a dozen times and still get goose bumps.
My wife has really helped me come out of my shell, as I used to be quite shy. I stood up during a silent part of Ricochet vs. Shelton and tried to start a "Ricochet" chant all by myself. I got a ton of people behind it and was very audible on TV, so I was quite proud of that.
I researched Tyson Fury on Google and read his previous offensive remarks about females, homosexuals, etc. So yeah, we booed the asshole pretty hard during that entire segment and heard a lot of the crowd doing the same, including a lot of "What?" chants.
The dark match was Seth Rollins vs. The Fiend. It only went a few minutes and ended in a DQ after The Fiend put the Claw on the referee, but the crowd didn't care. We were just all happy to get to see The Fiend in person before the lights came up and the show ended.
We met A.J. Styles at a meet-and-greet that morning. He was very nice, autographed a bunch of stuff for us, and actually had a conversation with us rather than shooing us along to get on with the line. It was a bit disappointing to not see him on the show that night and I know a couple other fans were at the signing and upset at that as well.
Overall, a bit less star power than previous shows we've seen in Denver, but still an awesome experience. Sure, the live show is great, but the best memories are the friendships and conversations you create with the strangers you meet waiting for a signing, pre-gaming a couple of drinks, standing in line waiting for doors or sitting at the show.
The wrestling community is a fantastic thing, as people from all walks of life converge together and we can all speak the same language and get along. My wife and I have meet dozens upon dozens of people at wrestling events and we still have yet to meet anyone we didn't like or enjoy talking too.
Wrestling is beautiful because it is performance art that helps people escape reality by attaching their emotions to superheroes and villains on their TV screen. But it is also beautiful for the live experience. Thousands of people all converging together as strangers but leaving as friends.