11/7 WWE in Brighton, England: Reigns vs. Corbin headlines, Nakamura vs. Ali for IC Title best match, Revival vs. New Day vs. Rowan & Harper, Bayley vs. Charlotte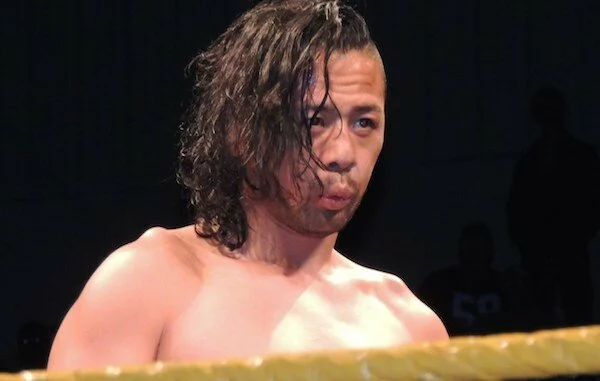 Shinsuke Nakamura (photo credit Scott Lunn @ScottLunn © PWTorch)
---
AEW DYNAMITE POST-SHOW (10/30)
(Search "pwtorch" to subscribe in podcast app)
---
WWE LIVE EVENT RESULTS
NOVEMBER 7, 2019
BRIGHTON, ENGLAND AT BRIGHTON CENTRE
REPORT BY JOHN SIVEWRIGHT, PWTORCH CORRESPONDENT
Attendance was approximately 2,500. My casual fan friend, who attended the show with me, remarked that she was surprised WWE would run a show at a venue so small. I had to explain to her that this is a normal occurrence when business is down.
(1) The Revival defeated New Day (Big E & Xavier Woods) and Eric Rowan & Luke Harper to retain the Smackdown Tag Team Titles. Fun opener and New Day are always a smart opening match act to warm up the crowd.
(2) Dana Brooke bested Mandy Rose (w/Sonya Deville) following interference from Sonya. Deville was clearly meant to break up a pin, but was late with her cue and ended up stomping away on Dana after the kick out. Carmella ran in for the save it got turned into a tag match.
(3) Dana Brooke & Carmella beat Mandy Rose & Sonya Deville. Neither of these matches were any good, which led to me going to some length to explain to my friend that women's wrestling has got a lot better down the years, it's just that these women aren't a good example of the progress made.
(4) Andrade (w/Zelina Vega) pinned Sin Cara. Decent action.
(5) Bayley defeated Charlotte to retain the Smackdown Title. Good, if a little underwhelming. Bayley won by feet on the ropes; Charlotte attacked her after to get her heat back.
Intermission
(6) Heavy Machinery & Shorty G & Apollo defeated Dolph Ziggler & Bobby Roode & Cesaro & Bo Dallas. Inoffensive stuff. Shorty G spent a long time in there for the heat segment. Otis from Heavy Machinery was a lot of fun, playing to the crowd and dancing around; the fans were digging it. Watching Otis do The Worm was probably my personal highlight of the night.
(7) Shinsuke Nakamura (w/Sami Zayn) defeated Mustafa Ali following interference from Sami Zayn to retain the Intercontinental Championship. Zayn also jumped Ali before the bell, making the story of the match Mustafa fighting from underneath. Match of the night.
(8) Roman Reigns defeated King Corbin with the Spear. Corbin was good at heeling to the crowd, continually imploring them to bow down to him. The U.K. has a general election coming soon and a divisive politician is named Corbyn; they could have had some fun with political references, but didn't do so. Reigns really doesn't have it as a top guy still, lacking in charisma and little fire during his comebacks.
FINAL THOUGHTS: Okay show overall, but £30 minimum for a ticket was a bit steep considering lack of star power and an awful lot of stalling throughout. I don't mind seeing the workers take it easy, what with such a gruelling schedule, but the actual time spent wrestling seemed really low on this show.
---
RECOMMENDED NEXT: 10/22 WWE in Brisbane, Australia: Reigns vs. Rowan headlines, Xavier substitution in New Day tag, Bryan vs. Harper, Nakamura (w/Sami) vs. Ali, Bayley vs. Charlotte