Charlotte Flair sees big things ahead for Rhea Ripley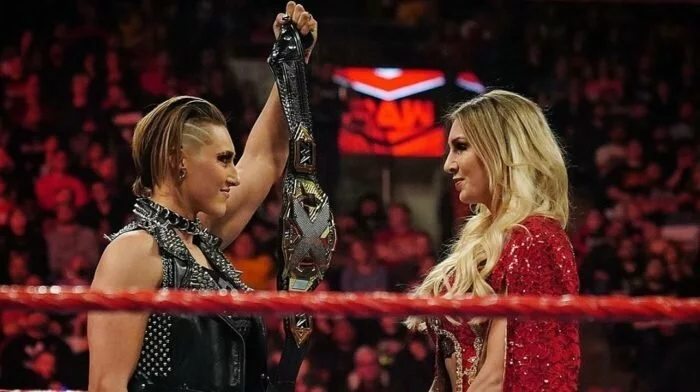 In a recent interview, Charlotte Flair had nothing but good things to say about Rhea Ripley.
In the interview, Charlotte praised Ripley and how she "rose to the occasion" to perform well under pressure in their match at WrestleMania 36.
This year's WrestleMania had the added pressure of performing in front of zero fans due to the Coronavirus lockdown. Yet, despite the strange and jarring circumstances Flair and Ripley's match was widely regarded as the best in-ring match of the weekend.
Flair and Ripley stole the show on day 2 of WrestleMania 36 when they absolutely tore it up in a hard-hitting and intense match for the NXT Women's Championship.
After a gruelling 20 minutes, Charlotte would defeat Ripley to become two-time NXT women's champion.
The result left a question mark over the future of Rhea Ripley but "The Queen" still sees big things ahead for "The Nightmare."
Speaking to Mirror Sport, Flair said;
"I always thought very highly of Rhea, but I think that watching her perform under pressure is what I took away because I know that I'm a 'pressure player', meaning I perform probably almost better under pressure, and that's exactly what she did."
"Rhea rose to the occasion and that lets me know that wherever her journey goes, she is going to succeed because she showed up to the occasion and that's sometimes the hardest thing to do."
Flair continued "You can have every tool and be extremely talented, but if you can't perform well under pressure, then that will make or break you. Rhea did that, so I have no doubt in my mind that there are bigger things ahead for her."
Since her victory, Charlotte appeared on RAW and NXT saying she is now ready for all on-comers from the NXT division.
We have yet to see Rhea Ripley since her WrestleMania defeat so we will have to wait to see what those bigger things will be.
What are your thoughts? Leave what you are thinking in the comment section below.