Wrestlemania 34 is in the History Books!!
Wrestlemania 34 – Quick Review and Thoughts
It's in the history books! Wrestlemania 34 was awesome! We had a massive return from the Undertaker, Daniel Bryan also made his in-ring return and Rowdy Rousey made her WWE debut and nearly broke Stephanie's arm! So all in all, a fantastic Wrestlemania!!
Pre-Shows
So the pre-shows had both Battle Royals and the Cruiserweight Championship match. Both Battle Royals were half decent to be fair and so was the Cruiserweight match up.
Matt Hardy winning the Andre the Giant Battle Royal with the help of Bray Wyatt! Naomi won the Woman's Battle Royal and Cedric Alexander won his first WWE Cruiserweight title after beating Mustafi Ali.
Main Show
Intercontinental Championship – Rollins vs Balor vs Miz
We started things off with the Triple Threat for the Intercontinental Championship between The Miz, Seth Rollins and Finn Balor. It was a very exciting match and started off the show perfectly with Seth Rollins coming out on top after a Double Curb Stomp and another to pick up the win!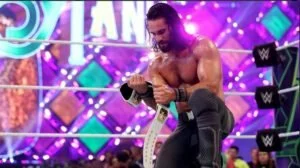 SD Live Woman's Championship – Charlotte vs Asuka
Next we had Charlotte vs Asuka! This match was as we all expected it to be… amazing! And in the end, Charlotte was able to make Asuka tap out with the Figure 8! After the match Asuka took a mic and said "Charlotte was ready for Asuka!". The two hugged and the match ended in great fashion with both woman coming out on top!
Cena Runs off backstage…
Just before the next match an official runs up to Cena and tells him something that makes him make a sprint for the backstage area! Taker incoming? OF COURSE!!
Fatal 4 Way – US Championship – Roode vs Rusev vs Mahal vs Orton
Another very decent Championship match up from these 4 men! Plenty of close calls and awesome bumps but it ended with Jinder Mahal picking up the win… which was a bit disappointing for everyone as I think everyone wanted Rusev to win… after all, it was RUSEV DAY!!
Mixed Tag Match – Rhonda Rousey and Kurt Angle vs Triple and Stephanie
Now this match surprised EVERYONE. We all thought okay, it will be a fun match and Rhonda will make her big debut and we can all accept it wouldn't be much of a match up…
HOW WRONG WERE WE?! Rhonda was brilliant! And the match was surprisingly exciting! With Triple H taking on Rhonda at one point and getting his ass kicked!
In the end, Rhonda won her debut match by nearly breaking the arm of Stephanie McMahon and making her tap out! The match was MUCH better than we all expected to be fair!
SD Live! Tag Team Championship – Usos vs New Day vs Bludgeon Brothers
This match was pretty quick… with the Bludgeon Brothers just "bludgeoning" everyone. And then they picked up the win after a short but decent match up. So your New SD Live Tag Champs are the Bludgeon Brothers!
I did expect a bit more from this match ip as The Usos and The New Day tend to put on some historic matches! But it was more of a filler match… maybe next year Uso's…
Cena vs Taker?
Next Cena comes to ring waiting for the Undertaker to come out. There's a Cena promo and no Taker… then the lights go out and…. Alias comes out. Cena takes him out and goes to leave…
Then the lights go out again but this time a spot light in the ring reveals Takers hat and gloves… then lightning hits the ring and they disappear! Obviously everyone is now going wild!
Then the GONG sounds… and Taker's music starts with the flames etc. Taker then rises from the stage and makes his way to the ring!
Him and Cena have a quick match but Taker looked strong and in tremendous shape! He ended Cena quickly with a huge Chokeslam and a Tombstone!
TAKER IS BACK! Long hair and all!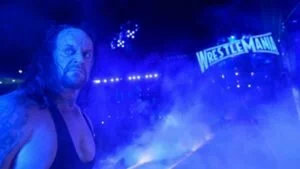 Tag Match – Bryan and Shane vs KO and Zayn
This match was pretty good as expected! Bryan didn't look like he'd ever left in-ring competition to be fair to the guy! He moved around the ring like he'd been wrestling non-stop for years!
Shane didn't do to bad either to be fair! And in the end, Bryan won the match and got rid of KO and Zayn from SD Live forever! And he did it in classic Daniel Bryan fashion… A RUNNING KNEE TO THE FACE! Woohoo!!! YES YES YES!!!
RAW Woman's Championship – Nia vs Bliss
This match went as everyone thought… Nia destroying Bliss! Nia even took out Mickey James before the match even started so she couldn't get in her way!
Bliss had a bit of an offense before Nia screamed at her and then went to town… Nia ended the match with a Super Samoan Drop from the second rope! Ending Bliss's reign as Champ and the era of Jax has begun!
WWE Champioship – AJ Styles vs Nakamura
The Dream match is here! And what a match it was!!! So many awesome moves, back and forth's and close calls! And just when it seemed Nakamura was going to end it all with a "Knee to the face", AJ managed to reverse it straight into a STYLES CLASH! 1…2…3!! Styles retains!!
After the dream match ended, Nakamura handed the WWE title to AJ on one knee as a sign of respect. Only to screw AJ and make a huge HEEL turn by low-blowing Styles!! Was this the right move? I'm not sure at the moment… will have to see where they go with it.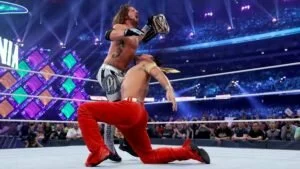 RAW Tag Team Championship – Braun and ????  vs The Bar
Now… the last part of Mania went a bit weird if you ask me. This title match where everyone was hoping for a surprise return or something… turned into a PG era match up with Braun choosing a "random" kid (which ended up being a WWE ref's son, so not random after all) from the crowd and wrestling with him against The Bar.
For me it was a waste of a cool Wrestlemania moment that could of seen BigShow or someone return but no instead Vince wanted a 10 year old boy to team with Braun… shocking booking!
The match ended fairly quickly with Braun and the kid winning… some how. It clearly won't last long and Vince is a complete fool for booking this match like this… moving swiftly on…
Universal Championship – Lesnar vs Reigns
One word… SHAMBLES! The match isn't worth a review. It turned into a BOTCH-FEST early on with Lesnar fucking up nearly every move he did to Reigns. The match ended with Lesnar winning to everyone's surprise… and Reigns and Lesnar go booed out of the arena. The match was so bad, there was even a "THIS IS AWFUL!" chat during the match up.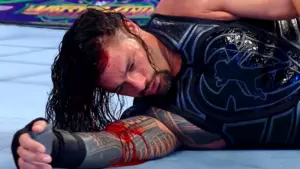 Final Thoughts
Wrestlemania 34 started very strong and was good throughout but ended tragically… the ended was so bad it was sad. I've never seen a Wrestlemania ending where there was no Champion celebration… no fireworks… nothing!
The end of Wrestlemania should be the main thing you remember from the show not the part you want to forget…
All in all, a very good PPV which could of been an A+ Grade if it wasn't for the last hour. I'd give it a B Grade and call it a success even though Botchamania was running wild!
So until next year's Mania, Peace out!